Preliminary studies and anecdotal evidence reveal that cannabis can be a healthy and effective supplement for dogs, cats, and other pets. As such, more products infused with cannabinoids have emerged to offer a new alternative treatment. Many pet owners have found it helpful to administer cannabidiol (CBD) to their loveable pooches via edibles and drinks. One such potent extract today is our Harbor City Hemp 1500mg CBD Pet Tincture (THC-Free, Bacon Flavor), which guarantees excellent results. If you're going to try this top-notch brand soon, you must understand the facts about its proper use and effects. Read on and discover its amazing benefits!
Product Description and Features
You want nothing but the best for your pet – don't you? Of course, that's the ultimate guarantee when you administer our CBD Pet Tincture to maintain or improve your pet's health. This product contains cannabidiol which has been proven in many research studies to have therapeutic effects. Many vets are now recommending the substance to pet owners. You can use it to manage anxiety, chronic pain, and poor appetite. All you have to do is mix the tincture with your pet's favorite foods or drinks for easier ingestion. The substance comes with other premium ingredients, such as organic MCT oil and natural flavoring (bacon flavor), for 100% satisfaction. Try it on your pets soon and see how it can provide them joy and relief!
Potential Health Benefits and Side Effects
The data is clear – CBD products have improved human and animal health to a greater extent since they produce therapeutic effects. The market is constantly growing and attracting more people to use them as regular supplements. You may want to discover how our CBD Pet Tincture works on your buddy. This product has already earned the trust of many consumers, making it a top-notch brand today. You might be surprised if your dog also enjoys these potential health benefits once the CBD tincture is already administered:
Promotes healthy appetite and sleep
Relieves anxiety and chronic pain
Combats stress and depression
Boosts energy levels and happy hormones
As with other cannabis products, improper or inappropriate use of CBD Pet Tincture can trigger adverse reactions, such as diarrhea or worsened medical conditions. Consult your veterinarian if you doubt the safety and efficacy of this product for your dog or cat.
Disclaimer:
This product should be used as directed on the label. No health claims in this article have been evaluated or approved by the Food and Drug Administration. Seek your veterinarian's advice to ensure the substance is safe and appropriate for your pet, primarily when used for medical purposes. Consumer discretion is advised.
How to Use CBD Pet Tincture
You can only get the best results with our CBD Pet Tincture if you use it properly. There are several ways to administer this product to your dog. One is the sublingual method, where you put a drop of the tincture under your pet's tongue. Another is oral ingestion, wherein you let your pet swallow the substance directly into his mouth. But you would prefer to mix it with his favorite treats or edibles so you can do it more easily. Whatever method you pursue, be aware that the onset time and duration of effects vary for each. You should choose the perfect way for your pet's behavior and offer the desired results. Get some advice from your veterinarian, if necessary.
Proper Dosing for CBD Pet Tincture
Anything excess is not always safe and healthy for your pet. You should keep this in mind when you administer our CBD Pet Tincture to your dog. Although it doesn't contain THC or any psychoactive compound, overdosing might prove to be counterintuitive. Follow the suggested serving size of ½ dropperful or 25mg of CBD for a start. Once you notice the positive results in a few days, you might gradually adjust the dosage when your pet requires more. Remember that you are deciding your dog's welfare, so observe how it works on its body. You may consider working with a vet if unsure whether this product is safe and appropriate for your intended purposes.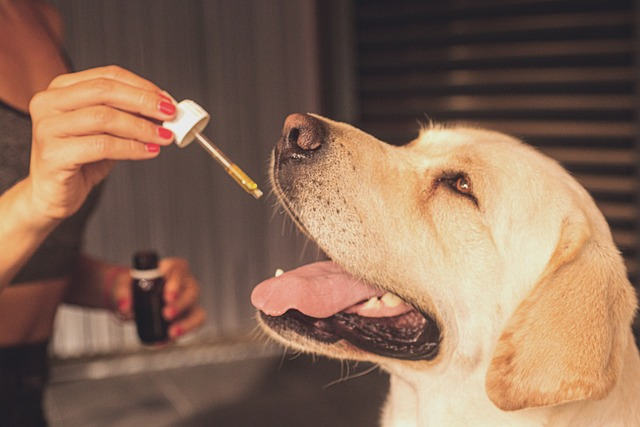 Customer Reviews on CBD Pet Tincture
Did you know? Thousands of pet owners are now using our CBD Pet Tinctures. The data speaks volumes about its efficacy and excellent results. Whatever the breed of your pooch, this product would promote overall wellness. One valid proof is the positive feedback from our valued customers, who keep returning to our online dispensary for more. You should reflect upon these honest reviews to make a wise purchase soon!
"I bought the 1500 mg CBD Tincture that is bacon flavored for my 15-year-old Golden Retriever. She has been taking it for a couple of weeks now, and she seems a lot happier, and her mobility has improved greatly. Will most definitely be continuing to give it to her on a daily basis."
~ Greg81102
"The best decision I've ever made for my buddy is giving him CBD Pet Tincture. This product has significantly improved his condition – no more anxiety and poor appetite. Indeed, what other pet owners say about this cannabis extract is true. The results I got also support the scientific claims I've read about it. Highly recommended, folks!"
~ Tommy D.
Other CBD Tinctures to Try!
Our Harbor City Hemp Pet Tinctures are ideal for regular use. But you can still try other varieties, like broad-spectrum CBD extracts, that might offer better results. That's another advantage we provide since we have many products crafted to suit your needs. You are given more options regarding cannabis extracts that you could add to your pet's daily health regimen. As you know, CBD can boost appetite, relieve anxiety, and promote healthy skin. These are the effects that most pet owners desire, and that's guaranteed with our premium product. Other options at your fingertip include the following:
CBD Pet Tincture versus Other Products
You're probably asking what makes our CBD Pet Tincture better than other cannabis or food-grade flavor extracts. This product is one of its kind in the market since it's specially formulated for pets. It can be used as a plain supplement or an alternative treatment with your veterinarian's prescription. Many pet owners have reported that the substance is beneficial in maintaining general health and managing such conditions where over-the-counter drugs aren't entirely effective. Once you administer this tincture to your dog or cat, you'll discover excellent results within a few days. But proper use is advised since the effects largely depend on the dosage and how your buddy responds to the substance.
Practical Tips When Buying CBD Pet Tinctures
Not all CBD tinctures are ideal and appropriate for your dog – you know that. So, as you shop in local or online dispensaries, you should know exactly what makes a cannabis extract suitable for your needs. Otherwise, you're running the risk of worsening your pet's condition. That's unlikely to happen if you know which brands or varieties could offer your desired results. As our valued customers, we care about you getting maximum returns on your purchase. For a quick guide, here are some crucial things to keep in mind when buying CBD Pet Tinctures:
Check the cannabinoid and terpene content
Check the Certificate of Analysis
Check the type of cannabis strain
Check other ingredients
Choose a product that's suitable for your pet
Read product reviews and scientific studies
Shop at a reputable dispensary
Harbor City Hemp Discount Program
Are you excited to see how our CBD Pet Tincture will work on your dog? 100% satisfaction and relief are guaranteed if you use this product properly. If you're concerned about the cost of this tincture, you can join Harbor City Hemp Discount Program to reduce the cost of your purchase. This privilege is offered to pet owners with long-term medical disability benefits and a lower income. Read the guidelines by clicking on the link. Once your request is approved, you can enjoy 30% off on selected items. We also offer special discounts during holidays, so stay on the lookout. Seriously, this means a huge saving if you're a regular customer. Don't miss this awesome offer!
Final Thoughts!
Do you want to see your pet happy and healthy? Our premium cannabis treat is the answer! It offers therapeutic effects that can boost overall health. This product is recommended by many veterinarians who found that cannabidiol is a highly potent compound that helps manage certain medical conditions. You may also buy it over the counter since this supplement is widely available in local and online dispensaries. As you explore our store, you'll find several varieties, such as CBD oil, broad-spectrum hemp extract, etc., that are best for human and animal consumption. Harbor City Hemp is a trusted provider of cannabis products that earned high ratings among consumers. Shop with us now for your best advantage!